I Put together a list of what I have and some Information about it.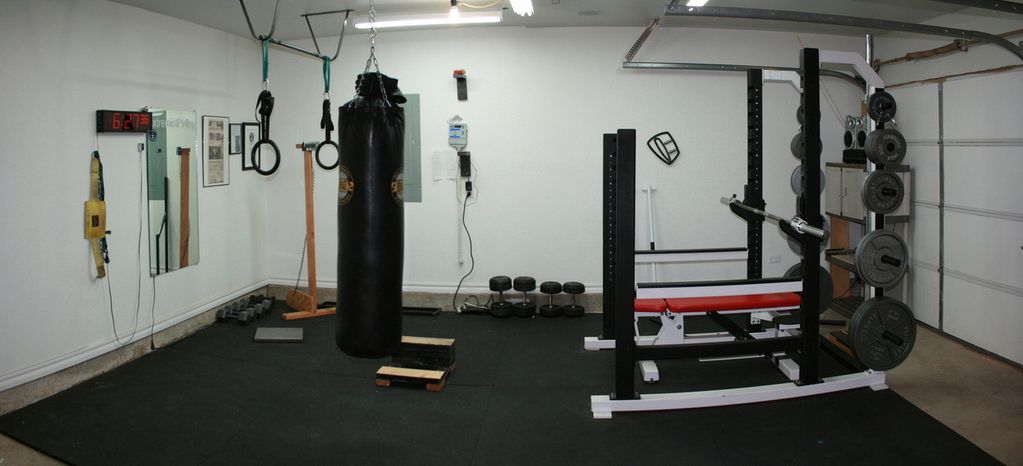 Power-Lift Rack w/ Bench- Live Auction 370 Dollars
Facts: goes new for 3,800 Dollar and the bench weight 140 lbs alone
Olympic Bar- Stainless Steel from GTECHFITNESS.com 499.00 (New)
Facts: Best deal on a stainless steel bar, 210,000.00 lb Tensile Strength.
Stainless Steel Bar Review-
http://www.youtube.com/watch?v=TaVObR4TVIQ
Digital Clock- (Ebay) COSY JUMBO 4" LED STOP WATCH CLOCK- Two Stopwatch Modes 145.00 (New)
Facts: VERY BRIGHT! Needed to Dim it with tint for my camera, awesome deal will not find the same product cheaper.
Plates- Craigs List Used/ Live Auctions
Facts: They are heavy so they work
8 Rubber Horse Stall Mats- New / Used 30 dollars (New)
Facts: 4 ft. x 6 ft 100 lbs each, 3/4 thick, you can cut them with a hand saw.
Shipping Scale- (Ebay) Jennings J Ship 84.90 (New)
Facts: Has Lasted 6 years so far, very accurate, low cost, 332 lb max.
Dip Belt- SPUD INC. Dip belt 40.00 (new)
Facts: come with heavy duty chain with TWO clips one on each end. Had 206.2 lbs on it for my GWR weighted Pull up.
Rings- (Ebay) 30.00 (New)
Facts: Haven't broken yet for 30 dollar rings, attached with climbing webbing and Carabiners
Dip Bars- Custom made
Facts: How I made it-
http://www.youtube.com/watch?v=iFw2o-2DMlc
Pull up Bar- Home Made
Facts: Three 36 inch flat steel (one cut in half for the top strap), other two heated and U shaped, 1 inch gas pipe with re-bar welded inside for support.
GWR pullup-
http://www.youtube.com/watch?v=gmCtEaZiVxg
Punching bag- Everlast CL- 40 dollars
Facts: 100 lbs, Eye hook and Climbing Carabiner
Collars- BULLDOG Collars and Lock-Jaw Collars
Facts: BULL DOG collars can handle 380 lbs of dead weight. Lock-Jaws can be apply easier then any other collar.
Bulldog collar review
http://www.youtube.com/watch?v=O7Cay1weO-o
Dead Lift Jack- Live Auction 5 dollars (used)
Facts: it was announced as a bar holder, no one knew what it was. I did 5 dollar bid FTW!
Calf block and Wt. Pullup plate holder- Home Made 2x6's
Facts: The plate holder makes things much easier, and the calf blocks works and it was basically free.
Dumbbells- Ivanko 50 & 40 Cap 30 & 25 (used Craigs List)
Facts: Made 50 dollars after flipping the rest of the buy.
Dumbell Handles- Cap Oly Dumbbell handles
Facts: good for curls not for Pullovers or tricep extensions.
Shop Lights- Four shop lights from Home Depot $12.00 each (New)
Facts: 4 ft with two T8 blubs Daylight 6,000K
Surround Sound- Sony STR DH 100 $ 129.00 (new)
Speakers- Four Pyle 6.5 in. 250-Watt 2-Way In-Ceiling Speakers
Hand Gripper- Ivanko two spring gripper
Facts: Adjustable from 45 to 360 lbs
EZ Curl Bar- Cap oly EZ curl bar
Facts: A little bent, Wish List Stainless Steel GP Industries EZ Curl bar.
Close-ups